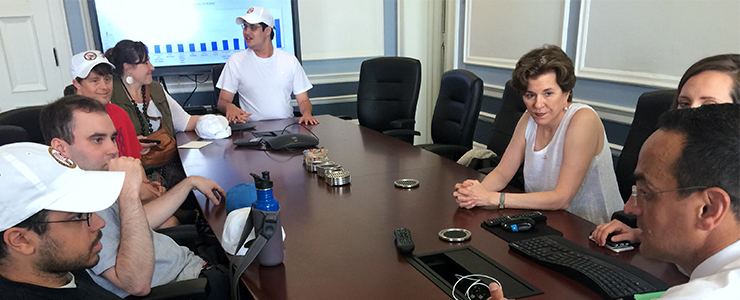 Workshops, Seminars and Specialty Modules
We also offer afternoon and evening workshops, seminars and specialty modules that are open to the public. They are taught by our top-notch instructional staff with the same care and respect for individual choice found in our regular 3LPlace modular learning.
For more information, please email Katie Wilson.
To register for these learning opportunities, go here.
Current offerings include:
Healthy Relationships
(Weekly series runs from from 3 to 4 p.m. on Mondays, beginning Jan. 25, 2021. Note: This course is full. Please email Katie Wilson for more information or to add your name for the next series.)
Facilitators: 3LPlace Clinical Director Meghan Montgomery and Elana Himmelfarb, principal writer of the 3LPlace Curriculum
Description: Maybe you've caught a few episodes of the critically acclaimed "Love on the Spectrum" on Netflix and are wondering how to get started. Or, maybe you (or they) have questions about how to stay safe in relationships of all sorts.
For the first time, 3LPlace is making our relationship experts available to both 3LPlace members and non-members alike in a three-part series, "Healthy Relationships."
The course unpacks the issues surrounding relationships, self-advocacy, and sexuality for people with autism and other developmental challenges, in a relaxed distance learning format.
The order of the three eight-week live series is carefully designed along developmental lines. "We take it slow and are very cautious," Montgomery said. Because we take a developmental approach, we'll check in with all potential participants. If a participant isn't ready for the next part, they can skip it and repeat whichever series fits best, when that makes sense."
Part 1: All Relationships
Part 2: Self-Advocacy in Relationships
Part 3: Understanding Sexuality
Folks who complete all three parts are eligible to join our weekly open format group for ongoing discussion about relationships..
The cost for each eight-week part of the series is $400. Private funds or DDS funding (pending DDS approval) may be used to pay for the workshop.